PENTECOSTAL FELLOWSHIP CHURCHES INC.
NATIONAL YOUTH DEPARTMENT
Ministering To The Youth Of Today By Any Means Necessary
NEWS
PFC 7th National Convention (June 13-17, 2006)
WOW, what a wonderful time we had at our 7th PFC National Convention! We truly had an exciting time in all of our sessions as evident by the move of the Holy Spirit. Our convention started off with a bang Wednesday, as Minister Frank Childs, from Lighthouse Church (Tuscaloosa, AL) taught us in the Youth Rap Session on True Friends. Then we went even higher in the Lord in the Holy Ruckus After Hourís service. Minister Ronald Taylor from Inner City Tabernacle (Odessa, TX), brought a mighty Word entitled Use What You Got! Many souls were blessed as youth shouted and praised God that night. Thursday was a day full of fun as we enjoyed the Lord in games called The Bible Olympics. We played games entitled Bible Mad gab, Millionaire, PFC Bible Trivia, and others. If that wasnít enough, that night after the evening service, the youth went to the AMF Bama Bowling Lanes to relax and get to know each other a little better. There was even a friendly competition between the Texas Longhorns (Bible Way Ministries), and the Crimson Tide (Lighthouse Church). Then on Friday, we had a good old-fashioned Holy Ghost party at the National Praise Rally. During this service, youth danced, rejoiced, praised God, and were even delivered from things that were binding them. We also had some confessions of faith, and one young man received the gift of the Holy Ghost. Our youth convention was closed out with our 106th & Praise Concert featuring Minister Sam Thomas & Creation, Curtis Williams, and Committed all from Birmingham, AL.
At this convention, we also commenced our Incredible Children Church led by Evangelist Judy Wright from Grace Abundant Life Ministries (Anniston, AL). The children ages 3-10 were ministered to each day of the convention and had a wonderful time. The childrenís church ended with Trinity the Clown (from Atlanta, GA) coming in and ministering in her special way. It was awesome!
PFC Western Jurisdiction Holy Convention (San Antonio, Texas)
The PFC Western Jurisdiction, under the leadership of Bishop Kevin P. Turner, invite you to their 1st Holy Convention in the beautiful city of San Antonio, Texas. The host for the convention will be Bishop Royce Priestly and the Rose of Sharon Church family. For More Information, please check the PFC Western Jurisdiction Website www.pfcwestern.org.
PFC 8th National Convention (Detroit, Michigan)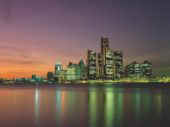 PFC 8th Annual National Convention - Detroit, Michigan

Next year our Eighth Annual PFC National Convention will be held in Detroit, Michigan. Pentecostal Fellowship Churches Incorporated will convene in the Motor City with Elder Lafayette Embry and the Good News Bible Church, PFC Host Pastor & Church. Bishop David Daniel is the North Central Jurisdictional Bishop.